Inspiring Children to Play Outside – An Interview with Lori Toma from Growing Roots Forest Play
Details

Written by

CHEERS Team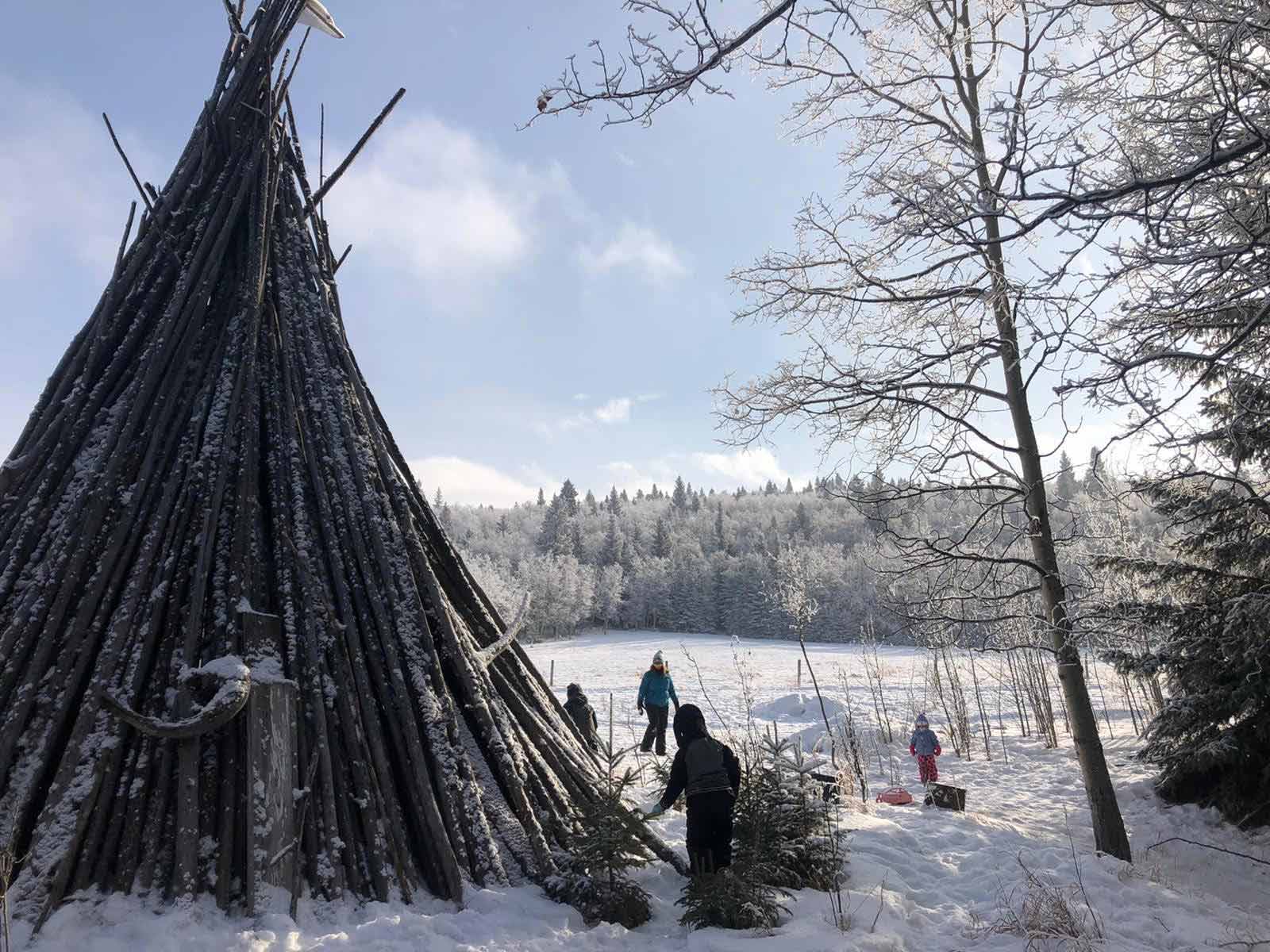 6 min read
Children thrive when they are outdoors! In nature, play and learning can intersect as the outside world becomes a child's playground. However, throughout the winter season in Alberta, getting children outdoors on a daily basis can become more challenging as the temperature drops.
As we continue to navigate COVID-19, we have learned that the virus is less likely to spread outdoors. Therefore, child care programs have been encouraged to increase outdoor activities.1 Although there may be some hesitancy towards outside time during the colder months, it is important to remember that this year, more than ever, children should spend as much time as possible outdoors.
With winter in full swing, we decided to get some tips and tricks on optimizing outdoor play from Lori Toma, the co-founder of Growing Roots Forest Play. Growing Roots Forest Play is a play-based program that operates entirely outdoors. Located just outside Calgary, in Cochrane, this program is ideally located amongst forests and meadows for children to play and for their imaginations to run wild.
The following interview outlines what it is like to operate an outdoor program, including some of the benefits and challenges that may arise. If you are in need of some inspiration and a little push to incorporate more outdoor time into your programming, look no further, as Lori shares her approach to free play and her secret to sparking curiosity in children.
What does a day look like at Growing Roots Forest Play and what makes the program unique?
Once children arrive, they walk down the lane to our main site which is surrounded by pasture and forest. When you walk up to our space there are huge pieces of logs, old wooden spools, and an outdoor mud kitchen. Our outside classroom is 18 stumps surrounding two fire pits. If you venture out further into the forest, we have a big ropes course set up there. It is equipped with a zipline, a ladder, tree swings, and tons of shelter buildings.
"We are child-led and follow an emergent curriculum."
In a way, this means we plan the curriculum after it's happened. You take what has happened and then build on it to put more provocations in place for the children. We discuss with the kids what they want to do, which may include staying on-site and playing games or going on an adventure. An adventure usually means a hike down to the creek, the fort, or back into the ropes course area. Snack usually includes some kind of storytelling or storybooks. And then we continue with whatever the plan was.
Our day isn't typical. We do half days (morning or afternoon), moving almost all of the time, which makes it a lot more feasible to be outside the whole time in our cold winters.
Rather than positioning ourselves as teachers or leaders, we call ourselves "co-conspirators" of play. We come up with rules as a group. This way, children actually buy into the rules. They keep each other safe and they know their boundaries really well. This approach allows children to feel more like leaders!
What benefits have you observed from having the majority of your programming outdoors?
It is very well documented that kids thrive outside. We see it all the time. There are times when parents message us about concerns or behavioral issues they have with their child (really shy, really emotional etc.). However, we rarely see those behaviors to their full extent on site. We attribute this to children having full access to self-regulate. If we see children having any kind of difficulty, such as sharing loose parts or playing with others, there is usually something they can do outside that is easily accessible to help them regulate. We feel like this is a huge benefit.
They also have a lot of choices. When children have choices and don't feel forced into one type of play, it makes them feel like they can really be themselves and allows them to build confidence.
What are some challenges you have faced in your program?
What is most challenging is the unpredictability of our weather. We can prepare for the cold but experiencing all four seasons in a 2.5-hour program – that can be tough. Our cut-off is around -25°C. We spend a lot of time educating families on layering and getting their kids to get dressed up properly. If children are set up for success it makes such a huge difference. We also have to encourage children to keep moving around a lot.
Another challenge we are constantly evaluating is the environmental impact we have in our area. We are very much an "off-the-trail, into-the-woods group," but at the same time, we want to teach kids to be stewards of the land and to respect the damage they might do. We do a fun activity and we map out the size of their foot and they take a magnifying glass to see how much is under their footprint. It helps them understand how much life is going on in the world [under their little feet].
Do you have any tips for families and/or educators on how to encourage children to get outside, play outside, and stay outside so that children build a positive association with being outdoors?
It's important for parents to lead by example. You need to start by instilling that value, families can't expect their kid to not spend any time outside and then decide one day to kick them outside. I think all it might take is a cardboard box or PVC pipe on the front lawn and waiting to see what happens. Then you can come to the child with little ideas and prompts to provoke play.
A really awesome questioning strategy is the "I wonder" questions. It really sparks conversation with a child. "I wonder what this bird is doing here," "I wonder where it came from," "I wonder what sound it makes." This way, you and the child are wondering together, as opposed to you quizzing them for an answer. Pocket guides for wildlife identification can be great for parents. When children see tracks, they can identify them in these pocket guides and it helps them learn a little bit more about the animal. I think helping children wonder more is key.
Is there anything else you would like to share?
I would love to acknowledge our staff. We have such a great team and they are so valuable in how the program is implemented. Also, our space is rented from Mount St. Francis Retreat Centre.
____________
We at CHEERS extend a huge thank you so much to Growing Roots Forest Play and to Lori for taking the time to chat with us. We are so grateful and inspired by her insight into outdoor programming and child-led play.
If you would like to learn more about Growing Roots Forest Play please check out their website

here

.

To see Growing Roots Forest Play recommendations on how to dress for each season, as well as their program's Wishlist,

check out this link.

To learn more about 'child-led play', be sure to read our blog on

5 Tips for Improving Children's Free Play

.
---

References
Government of Alberta (2020, September 1) COVID-19 information: guidance for daycare, out of school care (child care) Retrieved October 1, 2020 from

https://open.alberta.ca/
---
Note:
For current up-to-date guidelines check out Government of Alberta
https://www.alberta.ca/child-care-during-covid-19.aspx