Make Breakfast Manageable
Details

Written by

Nicolle Mah, Alexis Webster, Lynne Lafave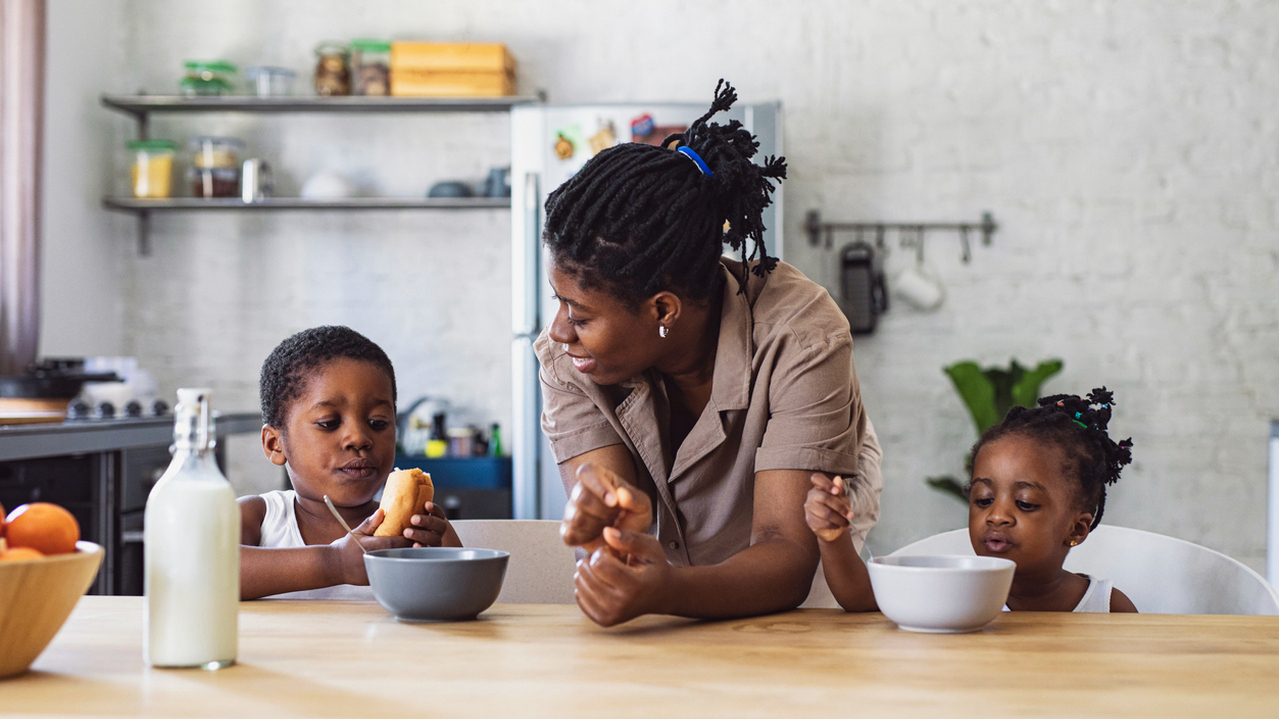 4 min read
Is it Important for Preschoolers to Eat Breakfast?
Preschoolers who eat breakfast have been shown to have better health and learning outcomes compared to those who skip.1,2 Yet it has been estimated that almost 9% of preschoolers skip breakfast.1
Good quality breakfasts contribute significantly to the consumption of key nutrients in the diet. Children who consume breakfast achieve better mineral intake for iron, calcium, magnesium, potassium, zinc, and vitamin C than breakfast skippers.3
Preschoolers who eat breakfast have better executive functioning and learning-related skills compared to breakfast skippers.4 This is connected to lower feelings of hunger and high-quality nutrient-dense breakfast choices.4
Do you eat breakfast?
If you skip breakfast, you're not alone!
We've all been there, chaotic mornings, appointments, and being late for work, make it easy to brush off eating until later. However, the food available 'later' may not be as nutrient-dense as if you had prepared it at home. Or if nothing is available, feeling hungry may make it difficult to be focused and energized for whatever your day entails.
Keep Canada's Food Guide in mind when preparing breakfast to ensure your body and brain are getting the necessary nutrients to support your health for today and keep you healthy in the future.5
Strategy for Success
Prepare breakfast ahead of time to make happier mornings for you and your family! And remember that children are more likely to eat food they helped prepare. This is a great opportunity to cook with your kids. A win-win for everyone.
Make-Ahead Recipes to Get You Started
---
References
Kunaratnam, K., Halaki, M., Wen, L. M., Baur, L. A., & Flood, V. M. (2020). Tracking preschoolers' lifestyle behaviors and testing maternal sociodemographics and BMI in predicting child obesity risk. The Journal of nutrition, 150(12), 3068-3074.
Alberta Health Services. (2019). Wake up to breakfast every day (Retrieved March 3, 2022). Retrieved from: https://www.albertahealthservices.ca/assets/info/nutrition/if-nfs-wake-up-to-breakfast.pdf
Giménez-Legarre, N., Miguel-Berges, M. L., Flores-Barrantes, P., Santaliestra-Pasías, A. M., & Moreno, L. A. (2020). Breakfast characteristics and its association with daily micronutrient intake in children and adolescents–a systematic review and meta-analysis. Nutrients, 12(10), 3201.
Hasan, F., Jirout, J., Garzione, S., & Kranz, S. (2021). Changes in Learning Outcomes after Dietary Intervention in Preschoolers: A Pilot Study. Nutrients, 13(6), 1797.
Government of Canada. (2019). Food, Nutrients, and health: Interim Evidence Update. https://www.canada.ca/en/health-canada/services/canada-food-guide/resources/evidence/food-nutrients-health-interim-evidence-update-2018.html